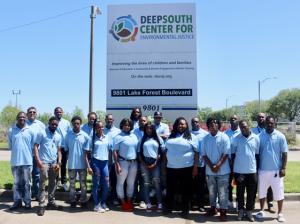 Congratulations to the ECWTP Class of 2021!
May 27, 2021
We are very proud of and happy for this year's Environmental Career Worker Training Program (ECWTP) Graduating class. This is our 26th annual class, and one of our finest in recent memory. The difficult and shifting conditions the COVID19 Pandemic did not weaken their determination and focus. Our New-Orleans based program took place from January 11th through April 14th (Graduation Day). Twenty (20) highly motivated male and female trainees participated this year learning through a virtual six week basic skills curriculum using a work-based model. The ECWTP also features six weeks of technical skills training which blends hands-on / interactive learning and classroom instruction.

Graduates earned certificates in forty (40) hours hazardous waste operations, thirty-two (32) hour Asbestos Abatement, sixteen (16) hours Mold Remediation, sixteen (16) hours Lead Abatement, ten (10) hours OSHA General Industry, forty (40) hours General Construction, and forty hours (40) hours Weatherization Installer.

The DSCEJ was able to hold an in-person Graduation Ceremony for our trainees at City Park. This event allowed our instructors, counselors, program staff and administrators to recognize their hard work and achievements - from Best Student to Most Improved Student in each course. This year, Kenisha Daggs was chosen "Best All-Around Student." The "Deborah Bates Survivor Award" went to Damian Crockem Sr. and Tia Kelly (Tribute to Deborah Bates Robinson). Our students found job opportunities waiting for them. As they fill these positions, we are confident that the good name and reputation the DSCEJ has earned will be reflected in them. Join us in wishing our ECWTP 2021 graduates all the best in life and their new careers.