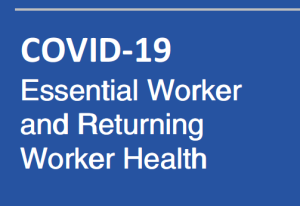 COVID-19 Essential Worker Health Trainings
Jul 6, 2020
You Must Register to Attend.
All Community Awareness and Disaster Preparedness Trainings are conducted by experts in community health, workplace safety, as well as disaster preparedness and response.
Important Registration Info: Once registered you will receive a confirmation email that includes information on how you can join the selected training.
COVID-19 Essential Worker and Returning Worker Health
Saturday, July 11 @ 12:00 noon - 2:00 pm CT on Zoom
To register, click here
Repeat - COVID-19 Essential Worker and Returning Worker Health
Tuesday, July 21 @ 6:00 - 8:00 pm CT on Zoom
To register, click here
Repeat - COVID-19 Essential Worker and Returning Worker Health
Thursday, July 23 @ 6:00 - 8:00 pm CT on Zoom
To register, click here
Learn More
Funded by: National Institute of Environmental Health Sciences