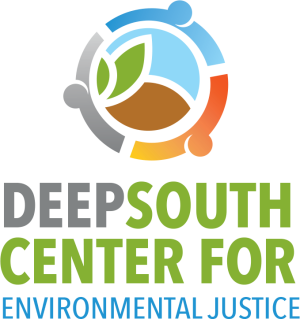 Developer/Grants Manager Position
Jul 9, 2021
The Deep South Center for Environmental Justice is seeking an experienced Developer/Grants Manager.
About the Deep South Center for Environmental Justice
The Deep South Center for Environmental Justice (DSCEJ) is dedicated to improving the lives of children and families harmed by pollution and vulnerable to climate change in the Gulf Coast Region through research, education, community and student engagement for policy change, as well as health and safety worker training for environmental careers. The DSCEJ provides opportunities for communities, scientific researchers, and decision makers to collaborate on projects that promote the rights of all people to be free from environmental harm as it impacts health, jobs, housing, education, and overall quality of life. The DSCEJ operates three programs: (1) Research and Policy Studies; (2) Community and Student Education, Training, and Engagement; and (3) Environmental, Health and Safety Worker Training. Navigate NOLA, a division of the DSCEJ, provides social emotional wellness programs for children and adults. The DSCEJ directs and manages the newly re-launched National Black Environmental Justice Network (NBEJN).

DSCEJ is seeking a Developer/Grants Manager who is self-driven and detail-oriented with a demonstrated passion for justice and equity issues. This individual will report to the Executive Director of the DSCEJ. The Developer/Grants Manager is a new position.

Key Responsibilities
The Developer/Grants Manager will spearhead and build the development function as the DSCEJ continues to grow. This position is responsible for fundraising and development activities. The successful candidate will help forge new relationships to build the visibility, impact, and financial resources of DSCEJ. The Developer/Grants Manager will also design and implement a comprehensive plan for cultivating individual and philanthropic support.
The Developer/Grants Manager will have primary responsibility for establishing and implementing the infrastructure for financial sustainability through the solicitation of major gifts, federal and state grants, special fundraising events, and corporate and foundation support. The Developer/Grants Manager will expand and diversify DSCEJ's donor base/pipeline and work closely with team members to secure funding for new initiatives. In addition, the Developer/Grants Manager will work closely with the board of directors and support board members as they take on more active fundraising roles.

Specifically, the Developer/Grants Manager will:
• Develop and execute DSCEJ's annual fundraising plan
• Secure financial support from individuals, foundations, and corporations
• Manage the use of the Raiser's Edge System
• Develop and maintain ongoing relationships with major donors
• Create and execute a strategy for a large sustained base of annual individual donors
• Organize special events
• Develop and track proposals as well as prepare reports for all foundation and corporate fundraising

Qualifications
• Bachelor's degree required, Master's preferred
• At least five years of professional experience in a nonprofit organization; demonstrated success in a development function (managing and forging relationships with multiple donor sources)
• Demonstrated excellence in organizational, managerial and communication skills
• Knowledge of the Raiser's Edge System
• Demonstrated experience in expanding and cultivating donor relations
• Excellent communication skills, both written and oral; ability to influence and engage a wide range of donors and build long-term relationships
• Strong organizational skills
• Flexible and adaptable style; a leader who can positively impact both strategic and tactical fundraising initiatives
• Ability to work both independently without close oversight, and as a team player who will productively engage with others at varying levels of seniority within and outside DSCEJ
• High energy and passion for DSCEJ's mission is essential
• Ability to construct, articulate, and implement annual strategic development plan
• Strong organizational and time management skills with exceptional attention to detail

It is the policy of the Deep South Center for Environmental Justice to provide equal employment opportunities without regard to race, color, religion, sex, national origin, age, disability, marital status, veteran status, sexual orientation, gender identity, genetic information or any other protected characteristic under applicable law.

HOW TO APPLY: Please email a detailed cover letter highlighting your interest, your resume and three professional references to beverlyw@dscej.org. Please include the Developer-Grants Manager Position in the subject line.