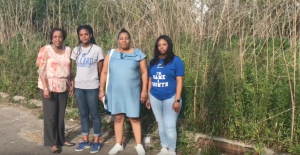 Gulf Equity Water Corps: Youth Raising Awareness about Sea Level Rise and Flooding Along the Gulf Coast
May 14, 2019
The Gulf Equity Water Corps. is an intergenerational project designed to develop climate justice leaders in the Gulf Coast Region. The Gulf Equity Water Corps is comprised of HBCU student interns from Dillard University and Texas Southern University, as well as, high school students from New Orleans, LA and Houston, TX respectively.
The HBCU interns are conducting research on drainage capacity and flooding in the Lower Ninth Ward in New Orleans and the Pleasantville Community in Houston, TX. The Interns are assisting faculty mentors and community leaders with research and the development of a curriculum to design a water focused project to raise awareness about sea-level rise, flooding, and water asset mapping in their communities. The HBCU interns will present the results of their research and final curriculum in five (5) stages: (1) interactive training to high school students (2) the HBCU interns and high school students, also known as The Corps, will present via webinar, (3) students give a presentation at a community meeting, and (4) a student train-the-trainer session in the Fall of 2019. The Corps will also have an opportunity to present their research (stage 5) at the 7
th
Annual HBCU Climate Change Conference, November 13, 2016, 2019. The Gulf Equity Water Corps Project is allowing students to develop the skill set to advocate and become trainers for other youth within their communities.
The project goal is to build youth awareness on how to build community capacity and collaboration around the issues related to sea level rise and flooding to improve community resiliency. This project is funded by the Bezos Foundation.