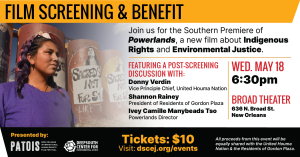 Powerlands Film Screening and Benefit
May 18, 2022
The Southern Premiere of Powerlands, featuring a post-screening discussion w/ local organizers & the filmmaker.
About this event
Presented by the PATOIS Film Collective and Deep South Center for Environmental Justice: Powerlands, a new film about Indigenous Rights and Environmental Justice. Screening and Benefit, Wednesday, May 18, 6:30pm, at the Broad Theater. Featuring a post-screening discussion with:
Shannon Rainey, President of Residents of Gordon Plaza
Donny Verdin, Vice Principle Chief, United Houma Nation
Powerlands Director Ivey Camille Manybeads Tso
Tickets: $10
All proceeds from this event will be equally shared with the United Houma Nation & the Residents of Gordon Plaza.

ABOUT POWERLANDS
A young Navajo filmmaker investigates displacement of Indigenous people and devastation of the environment caused by the same chemical companies that have exploited the land where she was born. On this personal and political journey she learns from Indigenous activists across three continents. Powerlands is the winner of best film at 2022 American Documentary Film Festival (AmDocs). This screening is the US Southern Premiere.

ABOUT IVEY CAMILLE MANYBEADS TSO
Ivey Camille Manybeads Tso is an award-winning queer Navajo filmmaker, and a recent fellow with the Firelight Media Documentary Filmmaker Lab. She started making films at the age of 9, through the Native youth media project Outta Your Backpack Media. At the age of 13 she made the award-winning fiction film In the Footsteps of Yellow Woman, based in the true story of her great-great-great grandmother Yellow Woman, who lived through the Navajo Long Walk of 1864-1868. The film screened in over 90 film festivals internationally and won 11 awards. Ivey Camille continued to refine her filmmaking craft with a full scholarship to Idyllwild Arts Academy in California. She later returned home to work on films in her community of Navajo Nation. At the age of 19, Ivey Camille began work on Powerlands, her first feature.