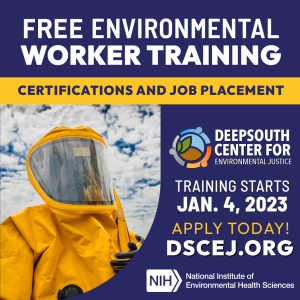 Deep South Center for Environmental Justice to offer free Environmental Career Worker Training
Dec 1, 2022
Deep South Center for Environmental Justice to offer free Environmental Career Worker Training

FOR IMMEDIATE RELEASE: December 1, 2022

(NEW ORLEANS, LA) - The Deep South Center for Environmental (DSCEJ) is currently accepting applications for the 2023 Environmental Career Worker Training Program which will begin on January 4 and conclude in mid-March, 2023.

This program focuses on delivering comprehensive training to increase the number of disadvantaged and underrepresented minority workers in areas such as environmental remediation/restoration, construction, hazardous materials/waste handling and emergency response.

DSCEJ will identify, train, and mobilize men and women to participate in hazardous materials clean-up, construction, and disaster recovery locally and across the nation. After receiving certification, participants will be assisted with job placement. The DSCEJ program has an average job placement rate of 98% with average earnings of $17 - $20 per hour.

To apply, please visit www.dscej.org/ecwtp. For more information, please contact Dr. John Warford at johnw@dscej.org or call 504-272-0956.

​​​​​​​PROGRAM OVERVIEW:
Training Is Free

Training is offered in a 12-week classroom and hands-on type setting by dynamic instructors and trainers that are experts in their field. Program graduates are fully certified in each technical segment completed satisfactorily and are provided OSHA workplace cards. The staff provides placement and career development assistance and continues to track the performance of both recent and past graduates.

PROGRAM COMPONENTS:

Basic Skills
The Basic Skills instruction provides trainees with the personal and interpersonal skills required to deal with the challenges of everyday life and to obtain and sustain employment. The ECWTP six-week basic skills training utilizes a work-based learning curriculum. Classes include study skills, mathematics, an introduction to hazardous materials, computer basics, life skills, job readiness, and physical fitness. There is also a counseling component that provides students with problem intervention and assistance, in addition to information on a wide range of social services to aid them in achieving their educational and vocational goals.

Technical Training
Technical training can include the following components as required by the granting agency:
40 hour—Construction
40-hour—Weatherization
16-hour—Lead Abatement
32-hour—Asbestos Abatement
40-hour—Hazardous Waste Worker
16-hour—Mold Remediation
10-hour OSHA Construction or General Industry

Student training incentives include:
Stipend
Lunch
Bus Pass (if needed)
TWIC Cards available to eligible participants

PROGRAM HISTORY:
Many communities in the Gulf Coast region face barriers to sustainable employment. In Louisiana alone, roughly 3.5% of the population is unemployed and approximately 19.6% are living in poverty.

To help overcome these socioeconomic barriers, Dr. Beverly Wright, DSCEJ Executive Director and her longtime colleague Robert Bullard, Ph.D., of Texas Southern University, direct the Historically Black Colleges and Universities (HBCU) Consortium. The HBCU Consortium focuses on delivering pre-employment and life skills training to underserved and under-employed individuals. The consortium is one of several grantees funded by the NIEHS Environmental Career Worker Training Program (ECWTP), administered by the broader NIEHS Worker Training Program (WTP).

The HBCU Consortium has been a part of the ECWTP for more than two decades. The consortium partners with others in academia, community and faith-based organizations, and small businesses to deliver training to individuals in New Orleans, Houston, Detroit, and Pensacola, Florida. This training increases career and employment opportunities in the fields of environmental cleanup, construction, hazardous waste removal, and emergency response. In 2021, the HBCU Consortium trained a total of 80 individuals and 87% were placed in jobs. In 2022, with 85 individuals trained a 100% placement rate was achieved, with the average rate for job placement over the last four years being 93% . Trainees were placed in jobs that include environmental remediation, green infrastructure installation, construction and demolition, and transportation.

The HBCU Consortium also equips trainees with the skills necessary to respond to climate-related disasters and public health emergencies. Over the years, many trainees have participated in cleanup and recovery activities following the Deepwater Horizon Gulf Oil Spill, Hurricane Katrina, Hurricane Harvey, and others.

READ THE NIEHS ECWTP PROGRAM OVERVIEW

About the Deep South Center for Environmental Justice
Families in the Gulf Coast deserve to live in communities that are free from deadly air and are more resilient to climate change and extreme weather. The Deep South Center for Environmental Justice (DSCEJ) works to empower and engage communities to put environmental justice and equity at the center of all climate action. Led by environmental justice scholar and advocate, author, civic leader and professor of Sociology Dr. Beverly L. Wright, the DSCEJ uses research, education, and community and student engagement to advocate for policy change, lead health and safety training for environmental careers, develop social and emotional community wellness programs, and create new and environmentally healthy opportunities for the residents of communities disproportionately impacted by historic environmental injustice.